The Index Everest-D V5 is the most versatile Braille embosser available, embossing Braille in any format on cut-sheet paper. That means no more tractor-fed paper to separate and it also means that you can buy much cheaper paper from just about any office supply store.
Embosses up to 400 pages per hour 
High resolution tactile graphics
Automatic booklet format printing
Horizontal and vertical printing options
Booklet Format
The Everest-D V5 supports booklet format (saddle-stitch binding). This printing mode enables users to easily produce braille books and other lengthier documents using cut-sheet paper.
When printing in booklet format, the printer is loaded with 11" x 17" size paper (or Tabloid) and embosses vertically (or sideways) on the page in Letter size pages with a folding line down the centre of the paper. Each Braille page is automatically embossed in page order, once the document is completed, users simply must fold along the folding line. It's that easy, done automatically.
An enjoyable user interface
The control panel is a local user interface which allows the user to interact with the braille embosser and provides complete embosser control.
Emboss & manage from portable devices
Index Braille V5 embossers are compatible with portable devices. With the use of your portable device and Index's own idB (free), endless braille embossing options are available directly from your smart phone, tablet or portable PC.
Even better, braille quality
The V5 solenoids (hammers) offer even better braille dot quality, a longer life cycle, higher embossing speed and lower power consumption.
idB :
Index

-direct-Braille

idB is a direct braille printing application built in the V5 braille embosser. It is available free of charge and compatible with Windows, Mac and Linux computers. 
Affordable price
Full of truly useful features and endless braille embossing opportunities, Index V5 braille embossers  still maintain the most affordable braille printer price comparatively.
USB host port
Connect a USB memory stick directly to any Index V5 braille embosser via USB host port to directly print braille documents or backup and restore embosser settings.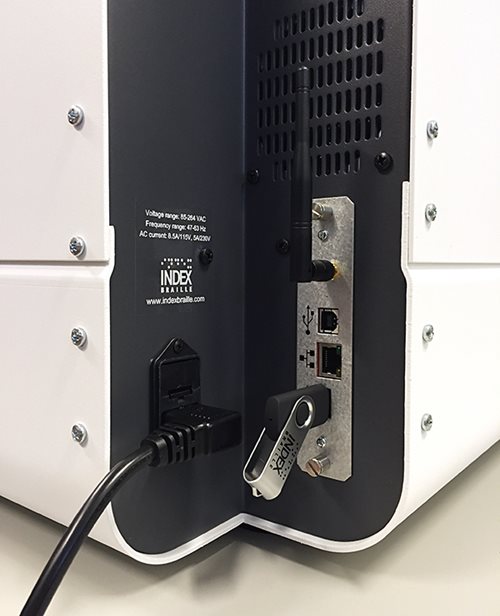 Acapela synthetic speech
In V5 embossers the speech feed back is generated by Acapela synthetic speech. This enables easy feed back when controlling the embosser user interface.
Technical Specifications
Braille

Embossing speed cps

110 cps

Single-sided

Yes

Double-sided

Yes

Vertical printing (booklet)

Yes

Adjustable line spacing

Yes

Braille font

2.2, 2.5, 3.2 mm

Tactile resolution

50 dpi

Forming method

13 hammers against steel anvils

Additional info

interpoint [standard braille] and interline [w/ 2.2 mm font] available

Communication

USB

Yes

USB memory stick

Yes

Wi-Fi network

Yes

Wired network

Yes

Bluetooth

Yes

Supports mobile devices

Yes

Printer driver for Windows

Yes

Printer driver for Mac

Yes

Printer driver for Linux

Yes

Web interface

Yes

Free firmware upgrade

Yes

Supports idB

Yes

Electrical

Voltage

100-240 V AC

Power max

140 W

Power stand by

5 W

Eco power down

0.05 W

Switched power supply

Yes

General

Warranty

2 years

Produced by

Produced by:


Index Braille


Hantverksvägen 20
954 33 Gammelstad
Sweden

Measurements

Height

45 cm (17.72 in)

Width

56 cm (22.05 in)

Depth

18 cm (7.09 in)

Net volume

45.36 dm3 (1.6 ft3)

Net weight

12 kg (26.4 lbs)

Noise level

80 dB(A)

Noise level with acoustic protection

60 dB(A)

Paper

Tractor-fed

-

Cut sheet fed

Yes

Paper roll

-

Sheet feeder size

50 pages

Paper weight

120-180 g/m2 (80-110 lbs)

Paper width

132-297 mm (0.5"-11.7")

Paper length

255-590 mm (10"-23.2")

Adjustable paper size

Yes

Fixed paper size

-
Additional Resources